If you're looking for some fun and unique activities to do at your next masquerade party, look no further! In this blog post, we will discuss a variety of different games and activities that will get your guests excited and entertained. From classic games like Pin the Tail on the Donkey to more modern options like a photo booth, we have something for everyone. So put on your best mask and get ready to have some fun!
Masquerade Ball Music and activities for the guests
The first order of business is to decide on the music for your masquerade ball. What's a Masquerade Ball without some dancing? Play some music and let your guests have a good time on the dance floor. You'll want something that sets the mood and gets everyone in the party spirit. Whether you go with classic Masquerade Ball music or something more modern, make sure it's upbeat and exciting.
Makeup Station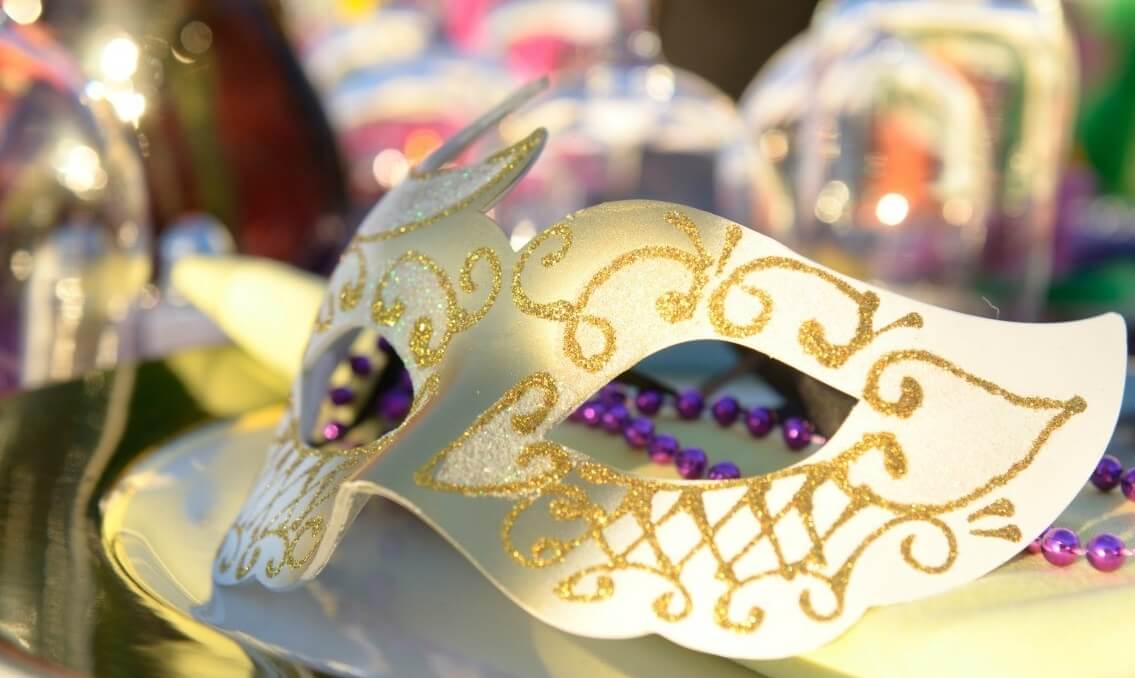 If you want to add an extra bit of fun to your masquerade ball, set up a makeup station! Provide each guest with some face paint, fake eyelashes, and other accessories to dress up their look.
Photo Booth
A photo booth is always a hit at parties, and it's perfect for a Masquerade Ball! Set up a backdrop and provide props like masks, hats, and feather boas so guests can have fun taking pictures. You could even print out some photo strips as souvenirs!
If you're looking for some more ideas, here are some popular activities that would be perfect for a Masquerade Ball:
- Make your own masks: This is a great activity for both adults and kids. Provide materials like feathers, sequins, ribbons, and glue so guests can create their own unique masks.
- Enjoy food and drinks: Of course, you'll also want to provide food and drinks for your guests. Serve up something festive like champagne and hors d'oeuvres, or go all out and have a full dinner buffet. Whatever you choose, make sure it fits with the theme of your party.
- Masquerade balls are the perfect opportunity for guests to dress up in their most glamorous outfits. So be sure to provide some inspiration by setting up a fashion show! Have each guest model a different outfit, or have them all come dressed as characters from a movie or book. And don't forget the masks! They're essential for any Masquerade Ball.
- Get creative with your decorations. Use masks as part of your decor, or hang some drapes in black and gold to set the mood.
- Get creative with your attire. Masquerade balls are the perfect opportunity to dress up in something extravagant and over-the-top. Whether you go all out with a mask, cape, and gloves, or keep it simple with a fun costume, have fun with it!
- Have a contest. This is a great way to add some excitement to the evening. Choose a few different contests (like the best costume, best dance moves, etc.), and award prizes to the winners.
With these ideas in mind, you're ready to throw an amazing Masquerade Ball for your friends and family. So get out your masks and get ready to have a night you'll never forget!
Games for a Groovy Masquerade Ball
Games are always a must-have at any party, and a Masquerade Ball is no exception. Try a classic like a pin the tail on the donkey, or get creative and come up with some new games specifically for your party.
Pin the Tail on the Donkey. This classic game is always a hit at parties, and it's perfect for a masquerade ball! To play, print out a picture of a donkey (or find one online) and cut out tails from construction paper. Blindfold each player and give them a tail to pinned to the donkey. The player who pins their tail closest to the donkey's actual tail wins!
Masquerade-themed scavenger hunt. This is a great way to get everyone up and moving. Split your guests into teams and give them a list of items to find or tasks to complete.
Truth or Dare. Take this classic party game up a notch by playing it with masks on. Be sure to have some interesting dares ready!
Murder mystery game. If you're looking for something a little more challenging, try hosting a murder mystery game at your masquerade ball. Guests will love trying to figure out who the killer is!
Whatever you choose, be sure to have fun and let your creativity run wild! And don't forget to snap some pictures - you'll want to remember this night for years to come!
Food and drinks for a Masquerade Event
Just like any other party, food and drinks are a must for a masquerade ball. Here are some ideas to get you started:
- Serve hors d'oeuvres that can be eaten with one hand, like mini quiches or sliders.
- Set up a bar area with different types of cocktails and mocktails.
- Have a chocolate fountain for guests to enjoy!
- Provide a variety of sweet and salty snacks, like popcorn, candy bars, and pretzels.
Whatever you choose, be sure to have enough food and drinks for everyone! And don't forget to dress up the food and drinks table with some festive decorations. Masquerade parties are all about elegance and sophistication, so make your table look as beautiful as possible.
Don't forget to have fun! A Masquerade Ball is the perfect opportunity to let loose and enjoy yourself. Dress up in your best costume, sip on some cocktails, and dance the night away.